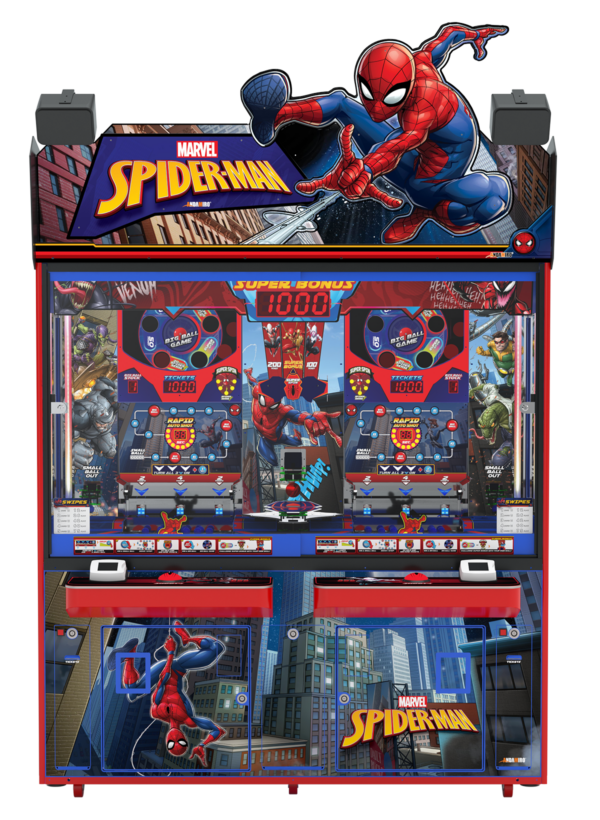 This electromechanical homage to the comic book legend is a thrilling arcade masterpiece.
Made by Andamiro Co. Ltd., marketed by Andamiro USA Corp. and officially licensed by Marvel Studios, the Spider-Man Coin Pusher is an exciting new coin game presented in a captivating two-player Spider-Man cabinet. Andamiro's arcade homage to the legendary Spider-Man universe will instantly grab the attention of anyone who approaches it.
Gameplay hinges on the player's accuracy in launching coins at targets, amassing those coins on the pusher platform, which steadily advance forward, carrying Spider-Man's distinctive blue and red spheres. Players challenge their timing skills to launch coins at illuminated targets, each shot setting off a sequence of events.
Spider-Man operates with three in-game pieces:
Tokens: 1,000 per side.
Red balls (55mm.): 13 per side.
Blue balls (30mm.): 55 per side.
There are no dispensable ticket items like character cards or chips – all components are self-contained.
At the heart of the Spider-Man Coin Pusher is the auto-rotating coin-firing mechanism that brings Spidey's web-shooting prowess to life. With a nod to his signature gesture, this mechanism propels three coins in rapid succession, adding an electrifying element of surprise and strategy to every shot. As coins cascade through the illuminated targets, players unlock an array of enticing bonuses and features that mirror Spider-Man's heroic journey.
Among the standout features is the Rapid Auto Shot. Engaging the Rapid Auto Shot sets off an intense flurry of action, as up 50 coins rain down on players within a thrilling 15-second interval, offering an opportunity for abundant rewards.
When players push Spider-Man's blue ball off the pusher platform, they progress along his 12-step journey map; when they complete the map a Rapid Auto Shot event activates. Push a red ball over the edge and trigger the high-stakes Big Ball Game for a shot at the ultimate ticket rewards in the Super Spin Game
The addition of a Spider-Man pusher to a game room promises to deliver an unforgettable experience that will resonate with players of all ages. It's a must-have centerpiece for any arcade seeking to offer cutting-edge entertainment.
(Images & logos: @ 2023 Marvel. All Rights Reserved.)
Dimensions, Weight & Power Requirements
SETUP SPECIFICATIONS
Dims: 70" W. x 46" D. x 106" H.
Weight: 1,090 lbs.
Power consumption: 700W / 5.8A
PACKING SPECIFICATIONS
No. of pallets: 1
No. of units per 40' container: 8
Dims: 75" W. x 55" D. x 87" H.
Weight: 1,200 lbs.
Availability
In stock
Leaflets & Service Manuals