Avengers collectible cards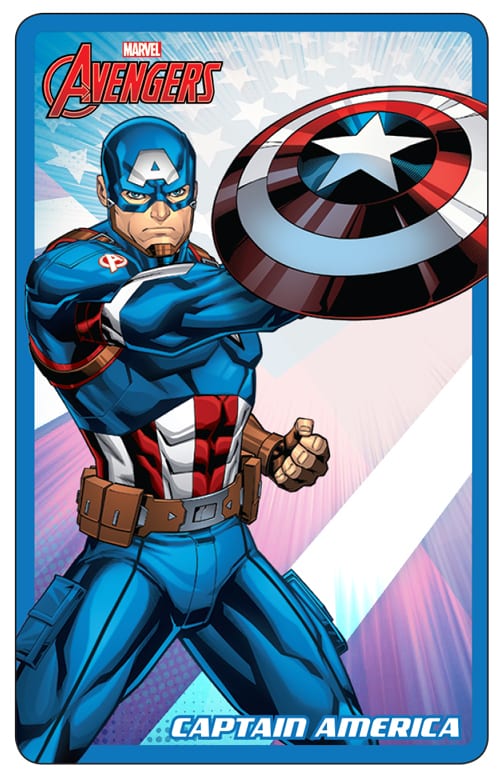 Marvel's Avengers is one of the biggest superhero franchises of all time, and one of the most exciting arcade licenses for Andamiro. So we couldn't resist adding "card play" to our new Avengers coin pusher, our first Disney-licensed game. Andamiro's highly anticipated arcade game rolls out with a collectible card set featuring nine iconic Marvel characters appearing in the recent Avengers blockbuster films, and whose comic book fame goes back decades.
The eight Avengers in the card series are Black Panther, Captain America, Captain Marvel, Doctor Strange, Iron Man, Hawkeye, Hulk and Thor, along with one supervillain, Thanos, which is the coveted rare card. On the front of each card is the official comic book-style likeness of the Marvel characters; on the back are fun facts about them. Best of all, Andamiro's collectible cards are unique to arcades as they double as redemption currency: each card has a value and players who collect all nine can trade them in for a 3,000-ticket bonus (or they can keep them).
Andamiro ships four boxes (150 ct. each) of blank cards complimentary with a new machine purchase. Cards can be customized with a venue or company logo, or barcode; custom cards require a 17-box minimum order. Andamiro prints its card content on a white PVC substrate (30 mil. thickness). Cards measure 3.375″ x 2.125″ and are very durable.
TM & © Marvel.
PACKAGE QUANTITY
150 cards per box
Availability
In stock